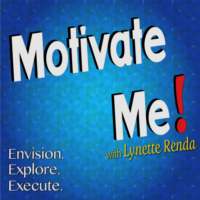 About Motivate Me!
What is the Podcast Motivate Me! with Lynette Renda?
Lynette Renda is all about showing her audience how to live a passion-filled life in two steps:
Step One – Exposure to people who are doing it
Step Two – Access to an action plan
She is happy to share her action plan with you:
Envision yourself living this life
Explore what it would take to make this happen
Execute a plan – determine the first step
To request a Motivate Me! Action Plan, e-mail "Action Plan" to Lynette@motivatemepodcast.com.
To access the detailed action plans of over 100 show guests, purchase Lynette's book Motivate Me!, Lynette Renda.
Motivate Me! with Lynette Renda by Season
Season 1: Live a Passion-Filled Life
Season 2: Life on the Road: 50-States in 90 Days' Tour
Season 3: Show Us Your Passion, America!
Season 4: Reclaim Your Passion Now
Let's talk about Motivate Me! – Season 4…
Launch Date: 3.8.21
2020 has been a difficult year all-around, and many of us are feeling FLAT and want our mojo back! Well, welcome to Monday Motivation where podcast host Lynette Renda dishes out tips, tricks, and techniques to get your head and heart back in the game – she does it in ten minutes or less because we don't want to waste your time and we don't have time to waste! Come listen, come make personal discoveries, come shift your energy and perspective, and come enhance your engagement in life and career!
Motivate Me! with Lynette Renda Stats…
Featured on iTunes' Popular Podcasts and What's Hot lists
Over 500 episodes
Listened to in all 50 states and 138 countries
Over 300,000 downloads